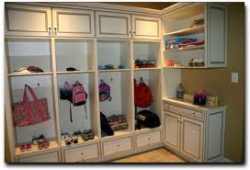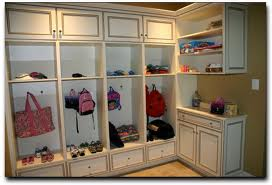 I'm convinced that my family's collection of boots, snow pants, mittens and hats reproduces each night. The sheer volume of stuff, coupled with a lack of adequate storage space, make keeping our entryway neat and organized nearly impossible, thus threatening my already tenuous hold on sanity. Then, just when I think I have a handle on it, a fresh blanket of snow falls, beckoning the kids outdoors to start the cycle anew.
Because our home is not equipped with a true mudroom, I've done some creative finagling to achieve some semblance of organization in the laundry room, the de facto outerwear repository. It's only about 8'x6', and with a sink, washer and dryer included, space is at a premium.
One thing that helps was the addition of a couple of inexpensive boot trays, which corral moisture and protect the tile floor from becoming a bigger safety hazard than it already is.
Another thing we did to maximize space was remove the countertop in the room. Originally intended as a surface on which to fold clothes, it became apparent after a few weeks that it was wasted on someone who prefers to fold clothes in the bedroom while watching TV. In its place, we installed two rows of wall-mounted coat hooks, one row lower down on the wall to accommodate our youngest and her limited reach, and another higher up for adult-sized clothes and larger, longer items. We chose hardware that could adequately support heftier winter outerwear vs. more decorative [read flimsy] hooks.
Another addition was a wooden drying rack, which can be folded and stored away when not in use. While it's a bit larger than I'd like, it's great for wet hats and mittens and the occasional sweater that needs to be air dried.
Quick fixes
One thing the space lacks is proper seating. I'd love a bench with built in storage compartments upon which we could sit to remove shoes and boots at our leisure. In addition to the practical uses, such a feature strikes me as something more genteel people have, even though I know having one would not transform my chaotic abode into something you'd read about in an Austen novel.
So, DIY'ers, what say ye about mud rooms? Do you have one? Or do you covet one like I do? What creative things have you done to wrangle the beast that is kids' outerwear? Hit me up in the comments!