Today we're sharing more love for our DIY backsplash products. Two satisfied customers shared their experiences with Aspect and Fasade tiles.
Scottie of the blog Saved By Scottie shared her quick kitchen update with our Aspect glass tiles in Morning Dew.
"When we moved into this house almost two years ago, the one thing I really didn't like (at all) was the kitchen. It's not set up logically, the cabinet style does not at all go with the house, and it's very small," she writes of her 'before.'
She goes on to describe how easy the project was and concludes, "Would I do this again? In a heartbeat! I still don't love the kitchen, but it's SO much better than it was."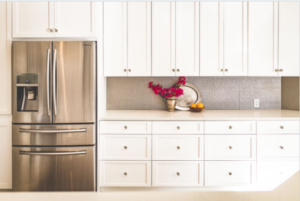 Amy of the Barefooted Designer used our Fasade backsplash tiles in Hammered in Galvanized Steel. These vinyl panels are easily applied with double-sided tape or construction adhesive, whichever you prefer. She then took it a step further by painting them with a metallic paint she likes.
"One of my favorite things is that even though these tiles look convincingly like metal, you can easily pop a nail through it and hang your art or favorite find onto it.  Just try doing that on your tile backsplash," she writes in her post.
We're impressed with the projects our customers undertake and their finished products. It really is amazing how much an impact a new backsplash can make in just a short amount of time and with only a little elbow grease. They are beautiful!
SaveSave