A Budget Kitchen Update with Big Appeal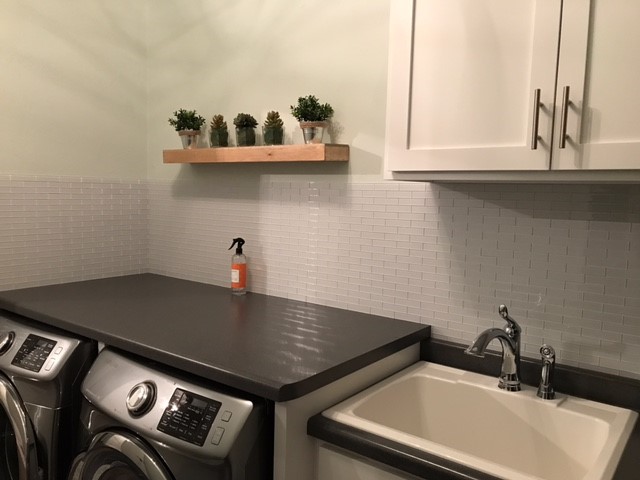 Like many homeowners, Jessie wanted to make some changes to her kitchen but she didn't want to spend a lot of money doing it. She and her family have lived in their home for about 5 years, and a budget kitchen update was needed.
Painting the cabinets was the first order of business. "We have a lot of white and grays in our home and so we wanted a more cohesive look for the rest of the house," she says. But the newly painted cabinets made the white appliances look "dingy." Jessie looked for sales and ultimately found some gently used stainless steel appliances on Craigslist to add to the new look. The couple also added concrete countertops.
A few browsing sessions on Pinterest later, Jessie was convinced the kitchen needed a little something extra. "A backsplash can just add so much," she says. She knew she wanted a white backsplash and chose Aspect Peel & Stick 3×6 metal tiles in white. Although Ben is considered more of the "handier" of the two, and Jessie is more obsessed with the designing and decorating aspect of a project, installation was a breeze.
"For my first backsplash, it was great!" she says. "I drew the lines on the walls to make sure it was going to be level and the peel and stick application was so easy. I think it turned out really nice."
Jessie is very pleased with how the kitchen looks today. "This project started with us saying we'd just do a little bit and then it turned into a whole remodel," she says. "We are really happy with how it turned out."